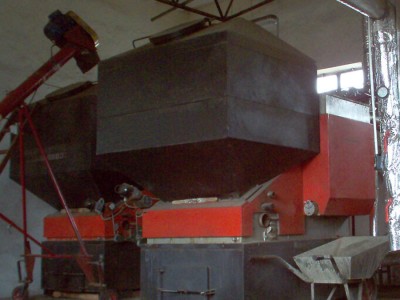 Our company is one of the leading distributors of automated central heating boilers for Poland. The devices in our offer, customized to biomass and brown coal fuel, meet environmental protection requirements and possess environmental safety certificates.
Owing to high thermal efficiency (75-85%), low level of carbon dioxide and nitrogen oxide emission, and the minimal amount of black and furnace gases, brown coal fuel is far less environmentally harmful than usually recognized by specialists.
The boilers on offer have been frequently described by our customers as easy in maintenance and user-friendly, and the number of users of Carborobot and Ekoefekt c.h. systems is constantly growing, including, i. a.: private households (both detached house and terraced), companies, schools, hotels, guesthouses and farming establishments. The systems have repeatedly proved reliable in a range of context calling for the automatic maintenance of room temperatures.
The devices on offer may serve as a full-level replacement of oil- or gas-fuelled boilers of similar heat efficiency. Easy to use, efficient and – owing to the comparatively lower prices of coal – definitely cheaper in maintenance than oil-fuelled systems, they make one of the best possible central heating solutions for households, companies and public institutions.
If required, the devices may be installed by one of our co-operating installation firms.
All boilers on offer come with a two-year warranty.
| | | | | | | | | | |
| --- | --- | --- | --- | --- | --- | --- | --- | --- | --- |
| Boiler type |   | E-24 | PV-40 | E-48 | PV-80 | PV-140 | PV-180 | PV-300 | E-600 |
| Nominal calorific efficiency | kW | 24 | 40 | 48 | 80 | 130 | 170 | 290 | 600 |
| Efficiency range | kW | 5-24 | 10-40 | 10-48 | 20-70 | 40-130 | 50-170 | 70-290 | 250-600 |
| Fuel usage at nominal efficiency  | kg/h | 1-6 | 2-10 | 2-12 | 5-18 | 9-33 | 12-43 | 16-73 | 70-150 |
| Boiler efficiency | % | 80 | 75-82 | 80 | 75-82 | 75-86 | 75-86 | 75-86 | 80 |
| Tender volume | l | 80 | 420 | 220 | 460 | 870 | 1020 | 1300 | 1200 |
| Maximum heat water pressure | kPa | 200 | 200 | 200 | 200 | 200 | 200 | 200 | 200 |
| Maximum water temperature | °C | 95 | 95 | 95 | 95 | 95 °C | 95 | 95 | 95 |
| Noise level at operational mode | dB | 55 | 55 | 55 | 60 | 60 | 65 | 55 | 75 |
| Weight | Kg | 290 | 620 | 490 | 900 | 1600 | 2400 | 3100 | 4500 |
| Height | mm | 1360 | 1830 | 1600 | 1830 | 2190 | 2190 | 2190 | 2800 |
| Width | mm | 640 | 860 | 780 | 940 | 1140 | 1380 | 1630 | 1700 |
| Length | mm | 1100 | 1610 | 1440 | 1970 | 2045 | 2275 | 2275 | 3500 |
| Heat water input/output | DN mm | G 5/4 | 50 | 50 | 80 | 80 | 80 | 80 | 125 |
| The circumference of exhaust tube coupling | mm | 125 | 125 | 125 | 125 | 150 | 150 | 150 | 200 |
| Temperature of exhaust gas | °C | 150 | 230 | 150 | 150-230 | 150 | 230 | 150 | 110-230 |
| Voltage | W/V | 90/230 | 280/230 | 280/230 | 280/220 | 780/400 | 1130/400 | 1130/400 | 2300/400 |
| Water volume | l | 85 | 140 | 140 | 285 | 410 | 650 | 780 | 2600 |
| Recommended fuel: | |   | Brown | coal | | grain | 5-25mm |   |   |
| Boiler class |   | 3 | 2 | 3 | 2 | 2 | 2 | 2 |   |