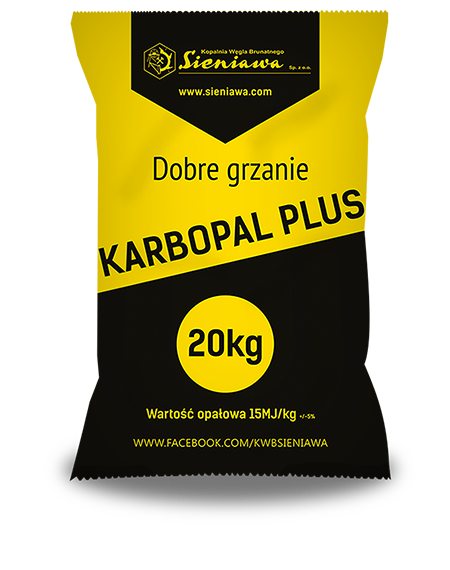 Karbopal Plus coal pellets
Purpose
– automated boilers
– coal ovens
– conventional furnace systems
Specifications
– net calorific value: 15MJ/kg
– gross calorific value: 20MJ/kg
– ash content: 11%
Packaging
– perforated 20-kilo bags
– net packaging: 50 bags on a 120×100 cm pallet, secured with stretch plastic foil
Advantages
– economic price
– ease of use
– low ash content
Brown Coal
| | | | | | | | |
| --- | --- | --- | --- | --- | --- | --- | --- |
| Photo | Coal type | Grain | Calorific value | Ash content | Sulfur content | Combustible sulfur content | Humidity |
| | Fine coal | 0-20mm | 9000-10000kJ/kg | 6-9% | 0,6-0,9% | <0,3% | 49-52% |
Useful information
The supplied batch may contain a 10 % amount of undersize / oversize grain.
Payment methods
– cash
– advance money transfer
Payment deadline
Payment deadline is established individually on contract signing.
Shipment and transport
The company provides railway transport. Car transport is provided by co-operating transport companies.
Complaints
§1
All complaints concerning the quality and/or quantity of the coal should be reported within 7 days from the date of the reception of coal shipment. Complaints are only handled on the basis of quality/quantity survey protocol made in the presence of the driver supplying the batch. Complaints made after the aforementioned term will not be handled.
§2
The load subject to complaint must remain intact, marked and secured from all factors that could affect its quantity and/or quality during storage. Failure to follow these recommendations may result in rejection of the complaint.